Interiors Presents
Matt Taber: The Hacienda 2
At the home of :
Matt Taber & Trang Tran

with Scott Nadeau
June 3, 2018a
250 Moore ST, APT 101, Brooklyn NY 11206
and around the corner in the parking garage at
Secret Dungeon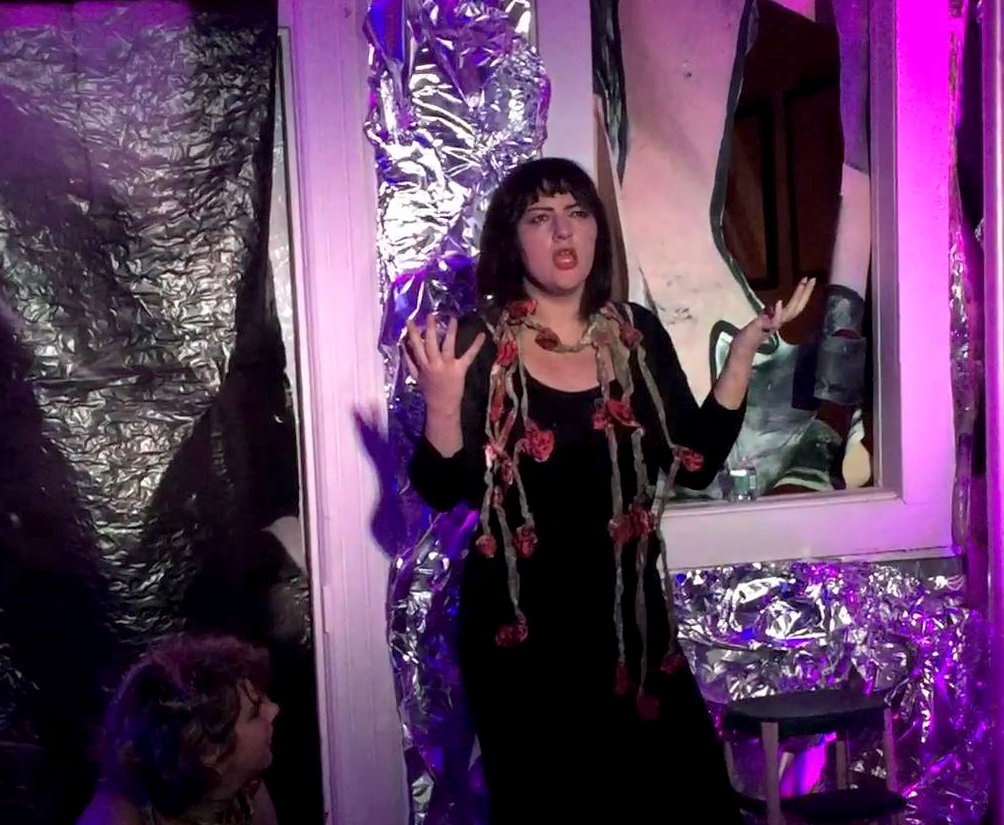 Joined by special guest
Julie Lamendola
(Julie Lablahblah, Nature Theater of Oklahoma, Ching Chong Song), Ms. Vida featured songs from her future hit
Commuter Album
in an intimate cabaret.
Commuter Album
was created in Katie Vida's car as she commuted to and from work every day for a 9-month period while working full-time in Stamford, CT. The liminal space between work and home became a bracketed time carved to improvise and freely explore a range of themes, including artistic pursuit, labor, and ennui.
Trailer for An Evening at Home:
Optimism Month, from The Commuter Album
Video by Nate Heiges

At the home of :


Katie Vida


December 12, 2017
Interiors
Meredith James, Möbius City, Queens Museum Installation View

Interiors is a new series of exhibitions featuring the work of a single artist in their own home. Like most domestic social events, these shows will be short in duration--usually the length of a brunch, a cocktail party, an afternoon tea, or at most a long weekend. And, they will be open by invitation only. Intentionally intimate, this is a series designed to provide radical context for the work of a select group of artists.

The Interiors début exhibition Möbius City will take place at the home of Meredith James and Jaques Louis Vidal from January 14th to January 15th 2017.

An appointment is required for viewing.

The primary work in this show will be a presentation of the piece Möbius City which James created as a site-specific video installation for the Queens Museum:
"...inspired by the Museum's Panorama of the City of New York, the gigantic miniature with nearly 900,000 individual structures rendered at a scale of 1:1,200. Originally commissioned for the 1964 New York World's Fair, the model may be a static, old-fashioned way of representing space, but it is unsurpassed in its ability to show an urban environment as a three-dimensional totality. James found her East Village apartment building on the Panorama, imagined her apartment in it, and pictured herself inside of it--like we all do! Möbius City is a fantastical daydream in the form of sculptural installation with video, staged in a structured around three real spaces: the artist's apartment in a 12-story building on 4th Avenue and 12th Street; its double as a near-life-size sculpture, and, the tiny model of the apartment building, standing 2 inches tall on the Panorama."
At the Museum, the viewer was able to peer into the near-life-size scale model of James' apartment and examine the furniture and objects therein-- radically simplified as the buildings in the Panorama were simplified--like a pigeon might do, through the window. The video was playing in a simplified mirror near the bed--the twin of which mirror hangs in James' apartment on 4th Avenue--and features not only the Panorama, the scale model, and the real apartment, but also Meredith herself, and a radically simplified scale model of her own body who also navigates all three spaces.
Re-presenting this work in her apartment is the final curve in the loop of layered versions of spaces that make of the möbius strip of public, private, real and imaginary in James' piece. Having abstracted that space (in near-life-size) we have an opportunity to re-enmesh ourselves into Meredith James' analog digital world in which the set becomes the screen.