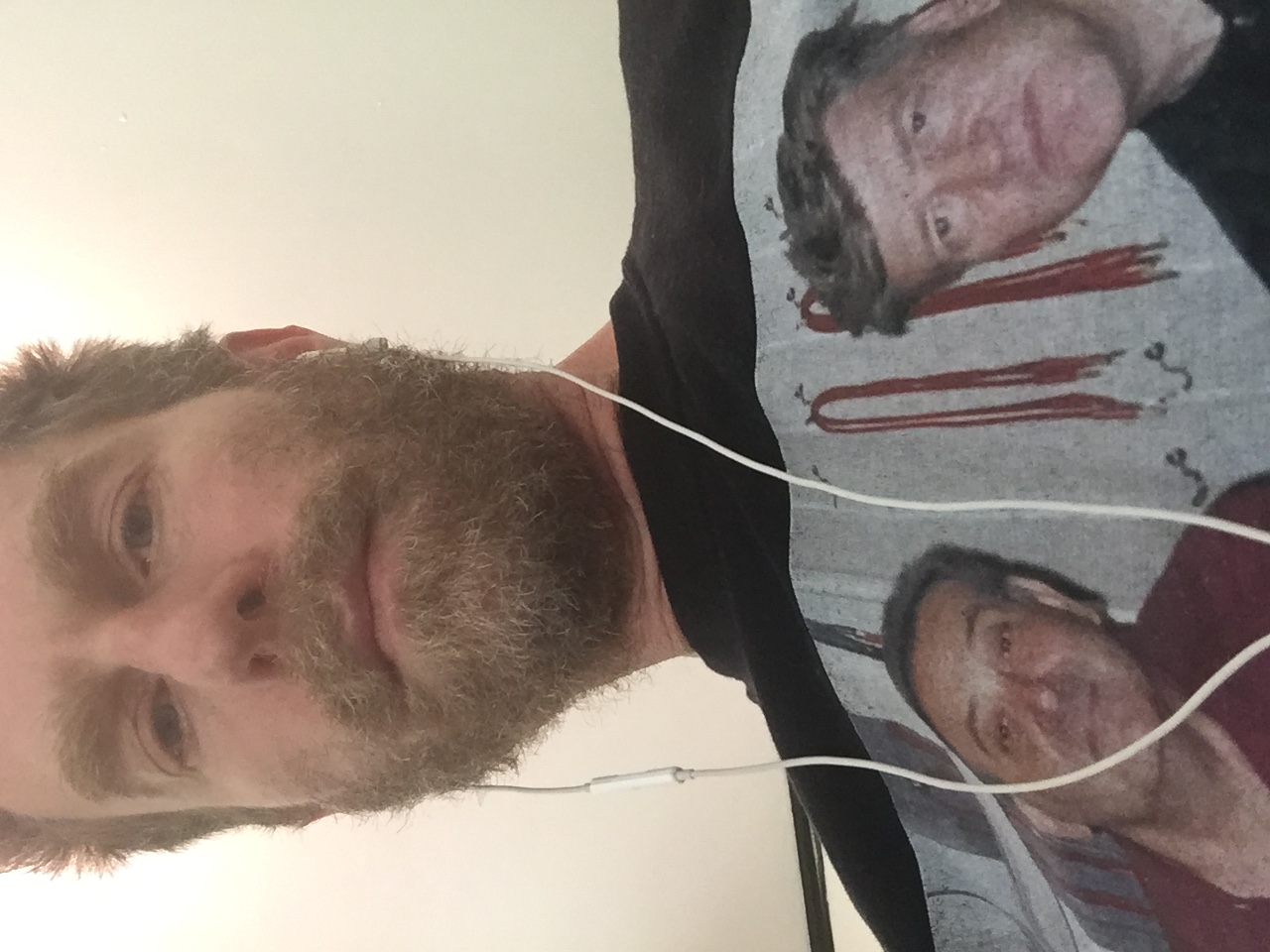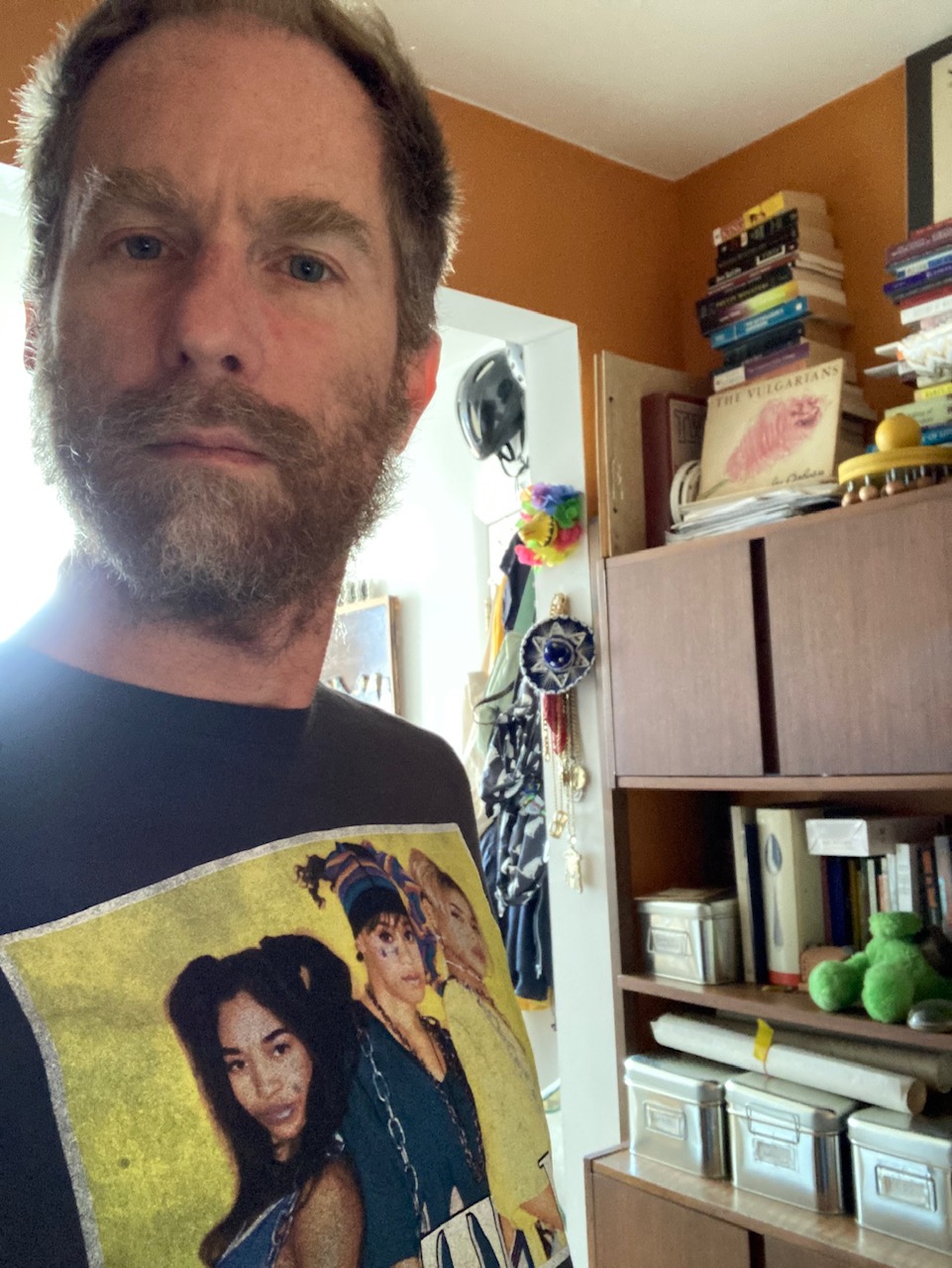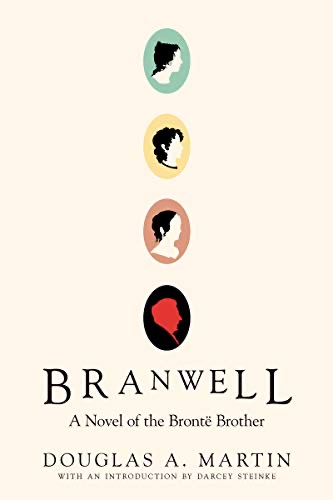 Douglas A. Martin
February 19, 2023
Complete playlist below; tracks in
yellow
were cut for time.
Bedtime Story, Tammy Wynette, 1971
Pony Ride, Olivia Newton-John, 1976
Cha Cha Cha, MC Lyte, 1989
Shoot, Sonic Youth, 1992
Fire and Ice, Pat Benetar, 1981
Here in My Head: Live from Colston Hall, Bristol, UK, 3/7/1994; Tori Amos, 1994

Manic Monday, Prince, 1984

Super Hero Vibe, Anni Rossi, 2020
Cicada, Ajax Caravan, 2018

The Showstopper, Salt-N-Pepa, 1985

Red, Belly, 1995
My Side of the Bed, Susanna Hoffs, 1991
Star Me Kitten, R. E. M., 1992

Wolf, Veruca Salt, 1994

Little Digger, Liz Phair, 2003

Community of Hope, PJ Harvey, 2016
Mr. Bojangles, Nina Simone, 1971
Can You Feel the Beat? Lisa Lisa and Cult Jam, 1985
The Voice of Love, Julee Cruse, 1993
"How can you continue to live if you look directly at what is happening to you?"
Poet, novelist, and short story writer Douglas A. Martin joins the show with a selection of songs by artists who have been formative to him and his work, even if some of them are slightly embarrassing. We learn about his early dance routines, entering the Sonic Youth music video contest, and his many, many attempts to become a member of MTV's
The Real World
. Martin's early life has provided fertile source material for his work, and we consider how complicated it is to talk openly and honestly about childhood experiences.
Martin describes the development of his unusual, impressionistic prose style and "the new ennui" he was trying to embody as a young queer writer in a turn-of-the-century college town. He shares a poem and an excerpt from his novel
Outline of My Lover,
and we discuss his novels,
Branwell
and
Wolf
. The former is about the doomed brother of the legendary Brontë sisters, and the latter is about two abused brothers who murdered their father in Florida a few weeks after 9/11.
He also introduces the astonishing 1973 collection of Tammy Wynette songs called
Kids Say the Darndest Things,
which features such crowd pleasers as "I Wish I Had a Mommy Like You", "Don't Make Me Go to School", and one we can all relate too, "Buy Me a Daddy."
Douglas A. Martin
is the author of
books of poetry and prose
, including:
Once You Go Back
,
Your Body Figured
,
In The Time of Assignments
,
Branwell
, and
They Change the Subject
. Martin's first novel,
Outline of My Lover
, was selected by Colm Tóibín as an International Book of the Year in The Times Literary Supplement and adapted in part by the Forsythe Company for their multimedia ballet/live film,
Kammer/Kammer
. Martin lives in Brooklyn and Callicoon, New York.
Emily Mae Smith
February 5, 2023
Pictured above:
Poetry (Toy in Blood),
2022, oil on linen, 67 x 51 inches &
Painters Quarry,
2022, oil on linen, 90 x 67 inches both courtesy the artist and Petzel gallery; photo credit: Charles Benton. Portrait photo credit: Steve Benisty; nature portrait credit: Nate Heiges.
Complete playlist below; tracks in
yellow
were cut for time.
Summer Breeze - Type O Negative
Lay Lady Lay - Ministry
Worlock - Skinny Puppy
Israel - Siouxsie & The Banshees
Lucretia My Reflection - The Sisters of Mercy
Cuts You Up - Peter Murphy
A Forest - The Cure
Until Death (Us Do Part) - Front 242
Hot on the Heels of Love - Throbbing Gristle
Head Like a Hole - Nine Inch Nails
Warm Leatherette - The Normal
Collapsing New People - Fad Gadget
Sensoria - Cabaret Voltaire
He's a Liquid - John Foxx
Paranoid - Black Sabbath
Sistinas - Danzig
We Believe - Ministry
One of my oldest friends, painter Emily Mae Smith GOES HARD on this episode of the Selection Committee Radio Show. Bringing in a mixtape of goth and industrial songs that she listens to in the studio when on a deadline, Smith gets us in the mood for productive violence, talking about her predilection for groups with dangerous performances and connections to avant-garde art movements.
Like a good goth song, Emily's meticulously rendered paintings reference both high art and cheap culture to create shimmering tableaux of ludic nihilism. Reflecting on her work's references to art history, Smith talks about the way the female figure is used as a formal cipher for male artists, the rage and alienation this engenders, and how she's using her work to paint her own place in history.
We discuss the ethical implications of taking on violent and/or charged subject matter in art and the return of the Satanic panic. We also talk about the importance of community in the development of ourselves and our work—and reminisce about our shared youth at the turn of the century in central Texas!
You can see her exhibition "Heretic Lace" and our panel discussion about her new monograph
here
.
The monograph is focused on the last decade of her work is now available wherever you like to buy books or from the
Petzel bookstore
.
Follow Emily Mae Smith on
instagram
!
Emily's limited edition cover for Nine Inch Nails for Interscope is
here
.
January 22
Peter Duchan
"Advancing art is easy…Financing it is not!"—from "Putting It Together"
or Subscribe to the show on Spotify
here
!
Complete playlist below; tracks in
yellow
were cut for time.
Putting It Together, Barbra Streisand, 1985
Sweet Dreams (Are Made of This), Eurythmics, 1983
Love Revolution, I Love My Wife Cast Album, 1977
Make Someone Happy, Jimmy Durante, 1964
I Don't Want to Be Alone, Billy Joel, 1980
If I Ever Lose My Faith in You, Sting, 1993
And You Would Lie/I Will Give—from Marie Christine Original Cast Album, Andrea Frierson-Toney, Jennifer Leigh Warren, Mary Bond Davis, Audra McDonald, 1999
Wherever He Ain't—from Mack & Mabel Original Cast Album, Jerry Herman & Bernadette Peters, 1974
Nobodys Side—from Chess Original Cast Album, 1984

When I Was A Freeport And You Were the Main Drag, Laura Nyro, 1970


Dedicated To The One I Love, The Mamas & The Papas, 1967

Care Of Cell 44, The Zombies, 1967

My Way, Nina Simone, 1971

Katie Cruel,

Karen Dalton, 1971



Oh, Pierre! Breedlove, 2017


Loving You Sometimes, The Outcasts, 1968

(Theme From) Valley of the Dolls, Dionne Warwick, 1967

Love Me - Two Gentlemen Of Verona, Galt MacDermot, John Guare, Mel Shapiro, 1971

Lo Dudo, Los Panchos, 1954


Don't Bring Me Down, PREP, 2018

Two for the Road, Henry Mancini, 1967
From the very start, playwright and screenwriter Peter Duchan throws down a gauntlet: "In case you were feeling like this show was getting 'too cool,' I came here to change everything!" Barbra Streisand's "Putting It Together," from The Broadway Album, really sets the tone as Peter takes us on a driving tour of a lifetime in musical theater. We begin with childhood trips in the family minivan listening to his mother's favorites (Streisand, various and sundry '70s-era sex comedies, the Sleepless in Seattle soundtrack) but soon segue into his period of teenage rebellion, when his insistence on Michael John LaChiusa and Adam Guettel musicals resulted in a full revocation of tape-playing privileges in the car. As Peter grows up, his love and dedication to the musical as a form only deepens, in large part because of his attraction to music that is rooted in storytelling and drama.
In discussing his award-winning musical Dogfight, for which he wrote the book, Duchan talks in depth about his process, how he came to adapt the 1991 film for the stage, and his collaboration with songwriters and lyricists Justin Paul and Benj Pasek. We discuss adaptation and interpretation and what it's like to watch and listen to your show as it's performed in languages you don't understand.
But this episode isn't just a deep discussion of process and some delightful samples from lesser-known musicals. It also courts controversy: Best rock-and-roll album of all time? Odyssey and Oracle by the Zombies. Most authentic folk singer? Karen Dalton over Bob Dylan. Britney Spears' vocal fry coach? Child voice actor Peter Duchan.

"I gotta give my life some sparkle and fizz…!"—from "Wherever He Ain't"

Peter Duchan wrote the book of the musical Dogfight, which premiered at Second Stage (director, Joe Mantello). Dogfight won the Lucille Lortel Award for Outstanding Musical and was nominated for five Outer Critics Circle Awards, including Off-Broadway Musical and Book of a Musical. The subsequent London production was nominated for two Evening Standard Awards, including Best Musical. Dogfight has since been performed in Tokyo, Seoul, Sydney, Amsterdam, and all over the world. Other theater credits include writing books for the musicals The Illusionist (Nissay Theatre, Tokyo) and Stu for Silverton (Intiman, Seattle), as well as co-creating (with Warren Carlyle) the revue Carefree: Dancing with Fred and Ginger. He served as Script Consultant for the long-running Broadway musical Waitress and the Broadway bound musical Lempicka. Film credits include co-writing the screenplays for the feature Breaking Upwards (IFC Films) and the short Unlocked (Tribeca Film Festival). Honors: Richard Rodgers Award (for Dogfight), Robert Chesley Playwriting Award (for his play Lavender Scare), Dramatists Guild Fellowship. Graduate, Northwestern University.
January 8, 2023
Robert Buck
or Subscribe to the show on
Spotify
!
Complete playlist below; tracks in
yellow
were cut for time.
Little Room, The White Stripes, 2001

Strange, Galaxie 500, 1989

One More Cup of Coffee, Bob Dylan, 1976
Hurt, Johnny Cash, 2002
Afraid of Everyone, The National, 2010
The Rip Tide, Beirut, 2011
Sun, Caribou, 2010
Ghost Dance, Patti Smith, 1978
Video Games, Lana Del Rey, 2012
Holy Roller Novacaine, 2003

Counting Stars, OneRepublic, 2014

Neon Pattern Drum, Jon Hopkins, 2018
2000 Miles, Pretenders, 1984

Song for Zula, Phosphorescent, 2013

St Jude, Florence + The Machine, 2015
The Beautiful Dream, George Ezra
Shallow, Lady Gaga & Bradley Cooper, 2018
Both Sides Now, Joni Mitchell, 2000
Cross-disciplinary artist Robert Buck's Thirteen Shooters series from 2001 was a meditation on media coverage of young school shooters when they first began to appear in the 1990s. His video work, too, explores the relationships between image-making, violence, desire, and indentity formation. Much of Buck's conceptual framework is based in psychoanalysis (Buck is the Art Editor of The Lacanian Review), particularly the ideas surrounding the concept of the Name of the Father which is a metonym for the patriarchy, the law, and hierarchically organized society. But as traditional institutions are eroded by changing technology, social mores, and ideals, how do we go about forming an understanding of the world and our place in it? One way is to make a pilgrimage to the desert!
For Buck songs have always had very strong associations with place, and he wanted to take us on a road trip through the American West, traversing the land from Zion National Park in Utah, to his own small plot near the US-Mexico border in Texas. We discuss Bob Dylan and Pattie Smith, the complicated legacy of settler-colonialism in our conception of the American West, and white wine margaritas. It's a journey that starts in a stifling suburb of Baltimore in the late 70s and ends with a remarkable epiphany in a white-out blizzard just beyond Truth or Consequences New Mexico.
www.robertbuck.net
www.instagram.com/robertbuckstudio
Morning

To find the Western path
Right thro' the Gates of Wrath
I urge my way;
Sweet Mercy leads me on:
With soft repentant moan 5
I see the break of day.

The war of swords & spears
Melted by dewy tears
Exhales on high;
The Sun is freed from fears 10
And with soft grateful tears
Ascends the sky.
-William Blake
Robert Beck
was born in Baltimore and moved to New York City in 1978 to learn filmmaking and cinema studies at New York University. In 1993, he attended the Independent Study Program of the Whitney Museum of American Art. He is a cross-disciplinary artist recognized for his precise use of materials, ranging from traditional art supplies to such non-art materials as mortician's wax, industrial reflective paint, latent fingerprint powder and gunpowder. Trained as a filmmaker, he works in a montage-like metonymical manner, a 'horizontal' approach that allows him to utilize the associative power of adjacent images and artworks. The crux of his art is subjectivity, with violence, sexuation, loss, and America as recurring themes. In 1995, Beck was awarded a New York Foundation for the Arts Fellowship, in Printmaking/Drawing/Artists' Books, as well as an Art Matters, Inc. grant. He received a Louis Comfort Tiffany Foundation Award in 1999. In 2007, Beck had a solo exhibition at the Wexner Center for the Arts in Columbus, OH. In 2008, Beck changed his given, or father's, name as a work of art by a single vowel to Buck. His practice is oriented by a constellation of influences, including artists Marcel Duchamp, Cy Twombly, Agnes Martin, and Cady Noland, filmmakers Robert Bresson and David Lynch, novelist Cormac McCarthy, forensic science, Buddhism, the teachings of French psychoanalyst Jacques Lacan, and the American southwest. In 2009, Buck bought a small off-grid property along the U.S.-Mexico border south of Marfa, Texas, which he refers to as his extimate studio. Since 2018, he has been an art editor of The Lacanian Review. His work is included in museum and private collections internationally. His moving image works are distributed by
Electronic Arts Intermix
, New York. He is represented in New York by Ulterior Gallery and Von Ammon Co. in Washington, DC., where he had an exhibition in November,
Robert Buck: Wound Filler
. In 2019, Buck received a Pollock-Krasner Foundation Award. Buck lives and works in New York City and far West Texas.