Nate's 2000s Mixtape
A mixtapes of songs from an obliviated decade!
For this summertime music-only show, host Nate Heiges plays classics, bops, and a couple of outliers from the 2000s. Why does nobody listen to music from the aughts? Because America lost its mind in the wake of 9/11? Welcome back home. Some art, some salt, some cheese, and some gold.
Complete playlist below.


Happiness, Chastity Belt, 2013 (oops)
L. E. S. Artistes, Santigold, 2008
Walking with a Ghost, Tegan and Sara, 2004
Fuck the Pain Away, Peaches, 2002
Fake French, Le Tigre, 2001
Bohemian Like You, The Dandy Warhols
Love's Not a Competition (But I'm Winning), Kaiser Chiefs
Hate to Say I Told You So, The Hives
An Honest Mistake, The Bravery
Emerge, Fischerspooner
Daft Punk Is Playing at My House, LCD Soundsystem
Danger! High Voltage - Soulchild Radio Mix, Electric Six
Roses, Outcast
Jesus Walks, Kanye West
Islands, The xx
Leaf House, Animal Collective
Young Liars, TV on The Radio
No More Drama, Mary J. Blige
I Thought You Were My Boyfriend, The Magnetic Fields
The Only Exception, Paramore
To Be Alone With You, Sufjan Stevens
Echo's Answer, Broadcast
I've Been Thinking, Handsome Boy Modeling School w/Cat Power
Mykonos, Fleet Foxes
Mushaboom, Feist
No Child of Mine, PJ Harvey
The Great Divide, Ashley Park
Tear You Apart, She Wants Revenge
Little Kids - Ladytron Fruits of the Forest Mix, Kings of Convenience
Ike's Mood I, Visioneers
Ladyflash, The Go! Team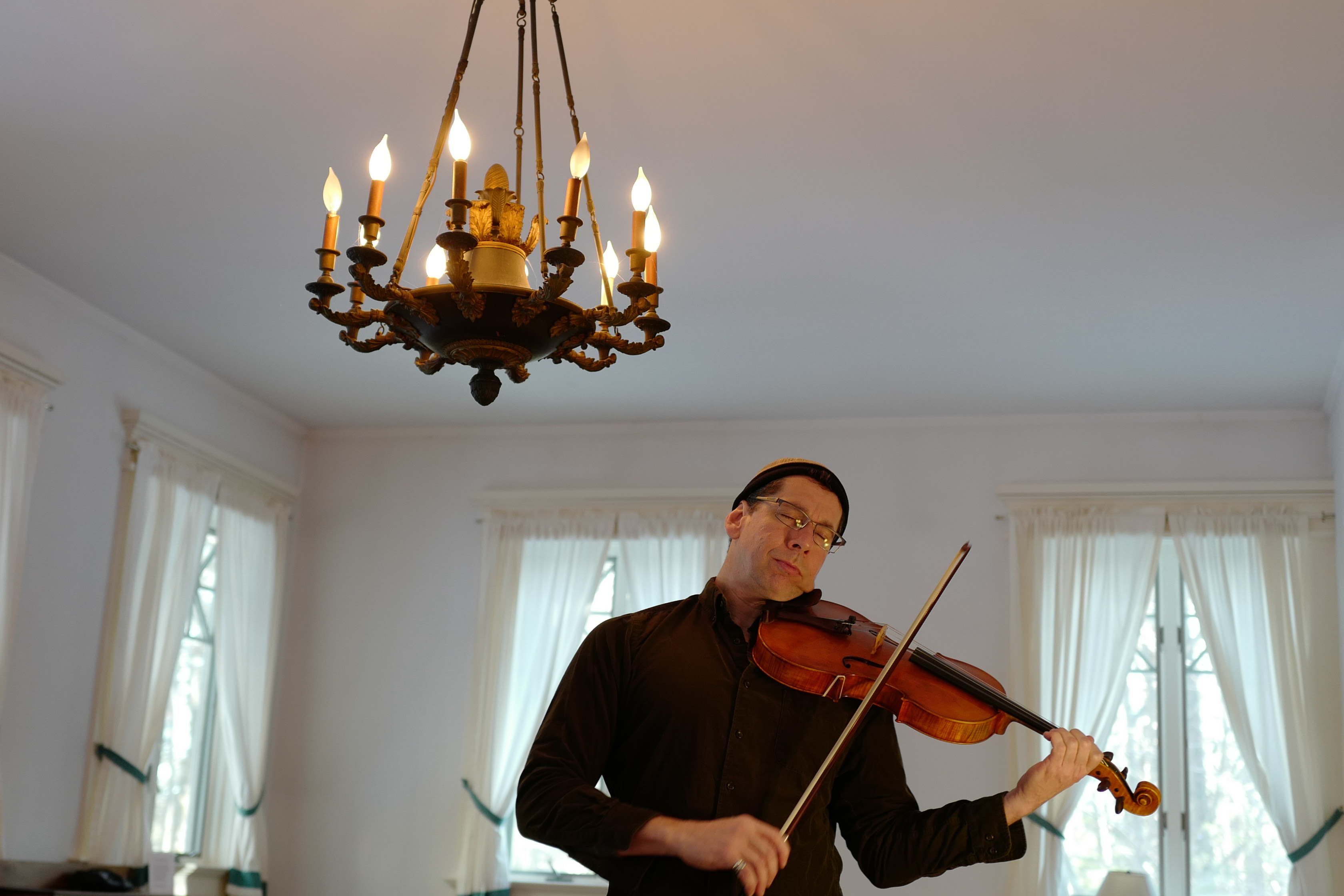 Marie Lorenz & Kurt Rohde
Newtown Odyssey
June 18, 2023
On this episode of the Selection Committee Radio Show, artist
Marie Lorenz
and musician and composer
Kurt Rohde
introduce their opera
Newtown Odyssey
, named after the same creek as Newtown Radio.
Marie Lorenz has been making boats and navigating urban waterways since she was 19 years old. Her explorations began when she was a student in Providence, Rhode Island, and they have taken her as far as the Neva River in Russia. In the summer of 2005, she established the Tide and Current Taxi, a rowboat taxi designed to take advantage of the tides and currents directing city waterways. In 2008, she was awarded the Rome Prize, and while staying at the American Academy, she met fellow residents Kurt Rohde and author Dana Spiotta. Once back in the US, Lorenz took both Rohde and Spiotta out on boating excursions and the idea for Newtown Odyssey slowly grew, with Spiotta agreeing to write the libretto.
Kurt Rohde shares both old and new music, and he discusses his interest in memory and historical (and not-so-historical) vernacular American music, which has informed his recent work. He discusses what it was like for him to transition away from being a dedicated performer to someone who works exclusively as a composer. Rohde has previously collaborated with other musicians and writers, including poets Scott Hunter and Donna Mason, but Newtown Odyssey marks his first time collaborating with an active industrial waterway replete with traffic, heavy machinery, LaGuardia's flight path, and the intense society of local avians.
We discuss the nature of collaboration, chance, and making work that responds to particular spaces. We hear a piece from Harry Partch, the experimental composer and inventor of strange and beautiful musical instruments who has inspired both Kurt and Marie. Marie describes the Plank Road Public Shoreline, a semi-hidden point of intersection between surface roads and the creek where the opera will be performed, and outlines the opera's themes of manmade engineering, politics, money, toxic waste, and the implacable power of nature.
Newtown Odyssey will be performed live on September 9 & 10, 2023; tickets will go on sale in early July. Folks who can't afford the price of the ticket can still attend thanks to sponsorship through the Newtown Creek Alliance. Find information and sign up for the mailing list at
www.newtownodyssey.com,
and follow the opera on
instagram
.
Marie Lorenz
is a visual artist based in New York City. In her ongoing project 'The Tide and Current Taxi', Lorenz transports participants through New York waterways in boats that she designs and builds, using the tidal current to propel the boat. Recent exhibitions include
Waterways
at Bennington College in Vermont,
Ash Heap
at the Lamar Dodd Gallery in Athens, Georgia, and
Ezekia
at the Albright-Knox in Buffalo, New York. Her work has been included in recent exhibitions at The Contemporary in Austin, Texas, and the Thomas Cole House in Catskill, New York. Other residencies and honors include the Rome Prize, Harpo Foundation, and Creative Capital Grant. Lorenz is represented by Jack Hanley Gallery in New York.
︎
Kurt Rohde
[h/h/h/t/t/t] plays viola, teaches and composes, and lives in San Francisco on unceded RamaytushOhlone land with spouse Tim and dog Hendrix. Kurt is fascinated with finding ways to incorporate notions of failure and catastrophe as part of the pursuit of making something beautiful. Kurt is Artistic Advisor with the Left Coast Chamber Ensemble, Artistic Director of the Composers Conference, and teaches Music Composition at UC Davis.
︎
Abigail DeVille
June 11, 2023
Complete playlist below; tracks in
yellow
were cut for time.
Door to the Cosmos, Sun Ra and His Arkestra, 1979

Black Hole Sun, Soundgarten, 1994
Mazzafrique, Burnt Sugar The Arkestra Chamber, 2004
Give Me the Night, George Benson, 1980
Step into a World (Rapture's Delight), KRS-One, 1997
La Negra Tiene Tumbao, Celia Cruz, 2001
The Beautiful Ones, Prince, 1984
Romantic Call (feat. Yo-Yo), Petra, 1993
You Will Never Find, In Essence, 2000
Be Faithful, Fatman Scoop, The Brooklyn Clan, 2003
Juicy, The Notorious B. I. G., 1994
Renee, Lost Boyz, 1996
UMI Says, Mos Def, 1999
Hope to See You, the HawtPlates, 2020

If 6 Was 9, The Jimi Hendrix Experience, 1967
Bold as Love, The Jimi Hendrix Experience, 1967
Wisdom Eye, Alice Coltrane, 1976
Who but Abigail DeVille would have the moxy to put Sun Ra and Black Hole Sun back-to-back at the top of a mixtape? Her irreverent but earnest sensibility permeates both her work and her musical selections.
Abigail is best known for her installations of found objects, mannequins, artifacts, and ephemera which serve as site-specific historical critiques, homages, and archives. She spent her early years growing up in a strict, conservative family in the Bronx and that borough provides the horizon line for her show
Bronx Heavens
at the Bronx Museum. Including work from the past 10+ years, the extraordinary scope of DeVille's work is possible because of her emphasis on the interconnectedness of all things, people, matter, history, time, everything—from soot to stardust. We talk about her piece
Light of Freedom
, a reimagining of the one held up by the Statue of Liberty for a post-COVID, post-George Floyd America.
Abigail talks about her family and how they shaped her—particularly her grandmother, whose fierce insistence on doing things her own way she shares with her granddaughter. This sense of a thread, through history and relationships but also through flesh and bones and time and space, winds its way through DeVille's work. She is engaged in a project of salvage that has roots in science fiction, religion, hip hop, and dancehall. She is, somehow, able to look into a midden and reveal a cosmos.
Abigail's show
Bronx Heavens
is on view at the Bronx Museum of the Arts through June 18th, and her show
In the fullness of time, the heart speaks truths too deep for utterance, but a star remembers
is on view at JTT through June 24th, 2023.
Abigail DeVille (b.1981, New York, NY) is known for her site-specific installations, sculptures and performances that conjure vast universes from discarded objects and fragmented archives. In a seemingly boundless practice that transcends codified space, DeVille often sites her dense assemblages anywhere between museums, theaters, public parks and city streets. By honoring and amplifying the memory of those that once used the everyday components preserved in her work, DeVille urges a reconsideration of what constitutes a historical record and who contributes.
︎
Pictured:
Baby Blu (the cat's eye nebula)
, 2023 from DeVille's show at JTT,
In the fullness of time, the heart speaks truths too deep for utterance, but a star remembers,
on view from May 18 - June 24, 2023
Memorial Day Mixtape!
5/28/2023
A Collection of possible Theme Songs for the show--let us know if you have a favorite!
xo Nate
Complete playlist below.
When It Rains It Pours, A Brisk Breeze/Leaf Beach, 2016

Excuse Me Mister, Gale Garnett, 1965
Eighteen Is over the Hill, The West Coast Pop Art Experimental Band, 1968
Waters of March, Art Garfunkel, 1975
Little Birdie, The Kossoy Sisters, 1956
Cool Water, Sons of the Pioneers, 1959
Lament I, "Bird's Lament," Louis Hardin, Moondog
Portofino 2, Raymond Scott, c. 1962
I Didn't Know, Skinshape, 2018
Bloom, j^p^n, 2015
Washed Ashore, Monster Rally, 2016
Weather Report, The American Analog Set, 1999
Who Was In Scituate on the 4th of July, Swirlies, 2006
Super Falling Star, Stereolab, 1992
The Cheech Wizard Meets Baby Ultraman in the Cool Blue Cave (Short Stories about Birds, Trees And The Sports Life Wherever You Are) [Bundy K. Brown Remix], The Sea and Cake, 1997
Reflection, George Winston, 1981
Why Would We Need Brakes? Neat Beats, 2011
Bob the Bob, The Lounge Lizards, 1988
Lumen, Throwing Snow, 2016
These Sad Times, The Softies, 1995
Drifiting - Edit, Zapatilla, 2019
Dream Puppy The Sweet Enoughs, 2020
123, Moomin, 2016
The Last Time, Andrew Oldham Orchestra, 1966
Never Can Say Goodbye, Gloria Gaynor, 1975
Conga Twist, The Revels, 1959
Chuncho, Yma Suman, 1953
Atlantis, Les Baxter, 1954
Utopia, Combustible Edison, 1998
At the River, Groove Armada, 1998
Street Scene, Esquivel! 1962
My Adobe Hacienda, Sons of the Pioneers, 1961
Tico Tico, Desi Arnaz, 1947
Quizás, Quizás, Quizás, Celia Cruz, 1964
Suavecito, Xavier Cugat & His Orchestra, 1957
Nature Boy, Robert Maxwell, 1963