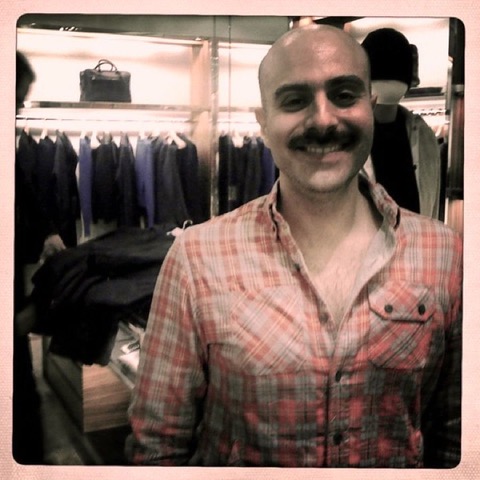 June 13, 2021
David Adjmi
Writer David Adjmi shares a playlist of songs from his adolescence he'd rediscovered while writing his 2020 memoir,
Lot Six
. From his insular Syrian Jewish community in Brooklyn to the discos of Bay Ridge, Adjmi guides us though his melancholy youth with much wit and many stories.
Complete playlist below; tracks in
yellow
were cut for time.
I (Who Have Nothing), Shirley Bassey, 1963

Prisoner (Love Theme from Eyes of Laura Mars), Barbra Streisand, 1978
Nasty, Janet Jackson, 1986
Time (Clock of the Heart), Culture Club, 1982
Ship of Fools, Erasure, 1988
Hells Bells, AC/DC, 1980
King's Cross, Pet Shop Boys, 1987
We Do What We're Told (Milgrim's 37), Peter Gabriel, 1986
Stripped, Depeche Mode, 1986
Babe, We're Gonna Love Tonight, Lime, 1982

Give Me Tonight, Shannon, 1984

Too Turned On, Alisha, 1985

Break 4 Love, Raze, 1988

Gigantic, Pixies, 1988

Blue Bell Knoll, Cocteau Twins, 1988

If Only Tonight We Could Sleep, The Cure, 1987

Cloudbusting, Kate Bush, 1985
Third Uncle, Bauhaus, 1982
David Adjmi's
plays have been produced at such theatres at Steppenwolf, Lincoln Center, the Royal Court, the R.S.C., and Soho Rep, where he was the Mellon Foundation Playwright-in-Residence for three years. His play
Stereophonic
is scheduled to premiere on Broadway next season, and a new play,
The Stumble,
was commissioned by Lincoln Center Theatre, and recently excerpted in
The Paris Review
. David was awarded the Guggenheim Fellowship, the Whiting Writers' Award, and the Steinberg Playwright Award (the "Mimi") among others. His memoir
Lot Six
was recently published by HarperCollins, and his two play collections,
Stunning and Other Plays
and
Marie Antoinette/3C
are published by TCG.